The 1934 WLS Family Album:

The Westerners
Curator's Note: Louise Massey (1902-1983), wife of Milt Mabie, was perhaps the best known of this family group. Her song "My Adobe Hacienda" (1941) became a popular music classic.

The Westerners first performed on KMBC in Kansas City. They came to WLS in 1933. In 1936 they moved to New York where they continued their radio work on NBC. In 1938 they appeared in a Tex Ritter singing oater, "Where the Buffalo Roam.

The group returned to WLS in 1939 and, during some of the World War II years, did a morning broadcast on NBC called "Reveille Roundup". The Westerners disbanded around 1950.

Curt Massey (perhaps the "Dott" Massey referred to below) eventually composed the theme music for television's "The Beverly Hillbillies" and "Petticoat Junction". Some five hundred Westerner artifacts are in the collection of the Historical Center for Southeast New Mexico. Someone ought to use that as a resource for a deeper study on a musical group that had significant crossover appeal.

I would presume that Milt Mabie acquired a new pair of chaps not too long after the photograph below was taken. He certainly wasn't wearing them when Fons Ianelli photographed the group for the 1941 WLS Family Album.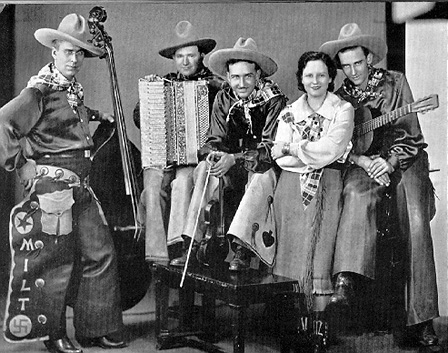 Meet the music-making Westerners, newest members of the WLS staff. The dangerous looking man on the left with the bass "fiddle" is Milt Mabie. Next to him is Larry Wellington with his accordion. Then Dott Massey who plays violin and trumpet; Louise Massey Mabie, singer and pianist, and Allen Massey, guitar and banjo specialist. Louise, Dott and Allen are sister and brothers. Milt was "adopted" bt Louise several years ago, while Larry joined the group more recently. Reared on a ranch near Roswell, New Mexico, the Massey's took to music rather than "cow punching", so their father, an old-time fiddler, led them in Chautaqua and Lyceum appearances for three or four years, after which they entered radio. They specialize in the sweet and rollicking songs of the West, but at any time you may expect them to break forth in modern music.
Return to the 1934 WLS Family Album Index page
Comments or suggestions? click here to send them to Rich Samuels
Created by Rich Samuels (e-mail to rich@richsamuels.com)