Ding Dong School

Streaming video of a complete broadcast
Curator's note: This "Ding Dong School" broadcast featuring Dr. Frances Horwich as "Miss Frances" probably dates from early in the show's run (perhaps 1952), since it is unsponsored. The program was produced and directed by Reinald Warrenrath, Jr. John Natale was the technical director. "Ding Dong School" was produced under the general supervision of Judith Waller.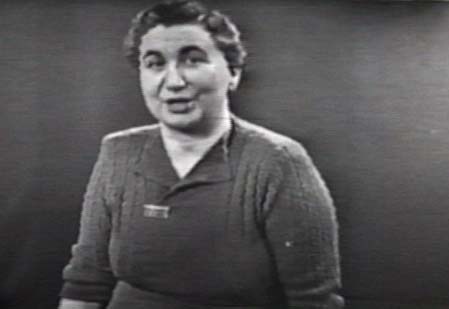 Above: Miss Frances (Dr. Frances Horwich) greets her pupils at the beginning of this "Ding Dong School" episode. The "Ding Dong School" set was located, for most of the program's run, on the state of the Studebaker Theater which NBC leased to supplement its Merchandise Mart studio space.
View the broadcast
| | |
| --- | --- |
| View Part 1: Miss Frances rings the bell calling her class to order (note also the somewhat primitive animation in the show's open. Miss Frances introduces her guest, Lew Skalinder, who demonstrates his string bass. (Lew Skalinder was an NBC staff musician and an accomplished jazz artist who played with the Art Van Damme Quintet. | |
| | |
| --- | --- |
| View Part 2: Miss Frances checks to see how her plants are growing and she shows her students how to make a train out of show boxes and string. She advises her pupils to observe rest periods during the day (which might include a nap). | |
| | |
| --- | --- |
| View Part 3: Miss Frances gets down and dirty with finger paint. Then she asks her students to bring their mothers to the television so she can talk to them about the day's activities. (These daily video "teacher-parent conferences were a "Ding Dong School" signature). Closing credits and the NBC chimes end the broadcast. | |
| | |
| --- | --- |
| | |
Comments or suggestions? click here to send them to Rich Samuels
Created by Rich Samuels (e-mail to rich@richsamuels.com)