BlagoFlashBack
Video/Audio Highlights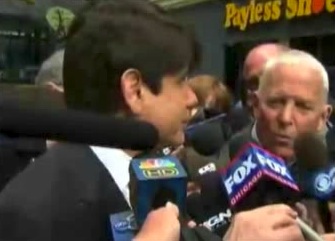 Curator's note:
On August 17 2010 former Illinois Governor Rod Blagojevich was convicted of lying to the FBI. But the Federal jury hearing his case remained deadlocked on the 23 additional counts he faced in his indictment. The Justice Department has indicated it will retry Blagojevich on those counts, though it has dropped all charges against his brother Robert. The video clips below document, in part, the ongoing Blago saga. Some (but by no means all) of these clips are extracted from pieces Rich Samuels, the
curator of these pages
, prepared for WTTW's "Chicago Tonight" show.
Chasing Blago

: For many months prior to Rod Blagojevich's arrest, persuing the governor and asking questions he didn't want to answer was a regular Chicao journalistic exercise. This clip is a compilation of queries and evasions.
January 13 2003 and January 8 2007

: Rod Blagojevich takes oath of office swearing to "faithfully discharge the duties of the office of governor to the best of my ability".
February 9, 2006

: Rod Blagojevich appears on Comedy Central's "The Daily Show" in a segment titled "Pill of Rights"
A 2006 attack ad

produced by the campaign of Republican gubernatorial candidate Judy Baar Topinka who unsuccessfully challenged Blagojevich's bid for reelection.
March 5, 2008

: A Blagojevich press conference to promote capital spending legislation descends into chaos when reporters ask why the Governor has issued a pardon to convicted felon Chandra Gill, who is also a keep player at Loop Lab School which mistakenly received state funds destined for the Pilgrim Baptist church
March 27, 2008

: Blagojevich declines to answer reporters' questions about his connections to Stuart Levine, the prosecution's star witness in the ongoing trial of Blagojevish fundraiser and confidant Antoin "Tony" Rezko.
May 6 2008

: A notable peripatetic press encounter with the governor.
June 30, 2008

: Blagojevich ducks questions about reports that he has been interviewed by the FBI. He's asked who might replace Barack Obama in the Senate if Obama becomes President. Would Blagojevich name himself?
May 19 2008

: With his popularity declining as the Rezko jury deliberates, Blagojevich is booed by commodities traders in the financial district. But later, on the West Side, reporters Deanna Bellandi and Rich Samuels are heckled by Blago supporters.
August 4, 2008

: Governor Blagojevich unveils his "Rewrite to Do Right" iniative, a heavy-handed effort to use the amendatory veto that will further alienate the legislators who will eventually impeach and remove him from office.
August 11, 2008

: A particularly physical encounter between reporters and Rod Blagojevich following his appearance at the City Club. Chairs are overturned and crystal falls to the floor as the colloquy continues in close quarters.
November 4, 2008

: In a wiretapped phone conversation with Deputy Governor Robert Greenlee, Rod Blagojevich rants because former Doug Scofield has advised him not to appoint himself to the senate seat Barack Obama will vacate. The "free bus ride for grandma" reference is included in this clip.
November 5, 2008

: Rod Blagojevich and former aide Doug Scofield express their dislike of reporter Carol Marin and television news producer Ed Marshall in a wire-tapped phone call.
November 5, 2008

: The above conversation continues, as Blagojevich speculates what he might get in exchange for naming Barack Obama's replacement in the U.S. Senate. ("I've got this thing and it's f--king golden").
December 4, 2008

: Wiretap of a call to Blagojevich from press secretary Lucio Guerrero who has just learned that Chicago Tribune reporter John Chase is publishing a story alleging that the FBI has secretly taped the governor and that lobbyist John Wyma is cooperating with the govenrnent.
December 9, 2008

, the day of Rod Blagojevich's arrest and processing by the FBI. United States Attorney for the Northern District of Illiniois Patrick Fitzgerald details the charges against the Governor at an afternoon press conference.
December 10, 2008

. Governor Blagojevich returns to work but eludes the journalists camping out in the lobby of the Thompson Center. Mayor Daley comments at a morning press conference.
December 10, 2008

. Illinois Congressman Jesse Jackson Junior holds a Washington press conference and states that he did not "initiate or authorize" anyone to promise anything to Rod Blagojevich in exchange for an appointment to the Senate seat formerly held by Barack Obama.
December 11, 2008

: Governor Blagojevich continues to elude the press and President-elect Barack Obama maintains he's had no improper dealings with Blago regarding his replacement in the U.S. Senate. Obama says he believes Blagojevich should resign.
December 15, 2008

: Governor Rod Blagojevich's efforts to line up legal representation for the proceedings before the legislature in Springfield and in the Federal court in Chicago.
December 19, 2008

: An extended soundbite from Rod Blagojevich's first press conference since his arrest by the FBI (this was actually broadcast on Monday, December 22nd; "Chicago Tonight" does not have a live broadcast on Fridays.
January 22, 2009

: Governor Rod Blagojecich announces that he will not participate in his trial before the Illinois Senate, scheduled to begin in four days. The Illinois Reform Commission meets for the first time.
January 26th, 2009

: Rod Blagojevich begins a media blitz, traveling to New York to appear on a number of Manhattan-based television talk shows, even as his trial before the Illinois Senate commences.
January 27, 2009

: Rod Blagojevich tells Rachel Maddow it would be wrong for him to receive something of personal value in exchange for filling a vacancy in the U.S. Senate. On April 25 2011 prosecutors asked that this clip be played at his second trial.
January 29, 2009

: Portions of the 45 minute statement Rod Blagojevich made at his impeachment trial. Shortly thereafter the Illinois Senate voted unanimously to remove him from office.
January 29, 2009

: Back in Chicago after his removal from office, Rod Blagojevich is mobbed by reporters (myself among them) claiming "the fix was in" in Springfield.
February 3, 2009

: Former Governor Rod Blagojevich, booted out of office and awaiting indictment, appears on the Late Show with David Letterman.
April 14, 2009

: The arraignment in Federal court of former governor Rod Blagojevich. Blago speaks to reporters outside Chicago's Dirksen Federal Building.
April 21, 2009

: Federal judge James Zagel denies Rod Blagojevich permission to travel to travel to Costa Rica to participate in the NBC reality series "I'm a Celebrity, Get Me Out of Here".
August 7, 2009

: Rod Blagojevich makes a paid appearance at the Optimus Block Party and sings "Please Be Kind".
April 4, 2010

: Rod Blagojevich is fired from "Celebrity Apprentice" after revealing himself as computer illiterate.
April 20, 2010

: Rod Blagojevich calls U.S. Attorney for the Northern district of Illinois a "liar" and a "coward" and challenges him to appear at a hearing the next day. (Fitzgerald did not accept the challenge).
July 21, 2010

: Rod Blagojevich explains why, contrary to previous statements, he will not take the stand; and his laywers (Sam Adam Senior, Sam Adam Junior and Sheldon Sorosky) explain why they are not calling defense witnesses.
August 17, 2010

: Rod Blagojevich reacts to his conviction on one count of lying to Federal investigators.
August 17, 2010

: U.S. Attorney for the Northern District of Illinois Patrick Fitzgerald says the government will retry Blagojevich on the deadlocked counts.
August 17 2010

: Response of Blagojevich defense attorney Sam Adam Junior.
August 17 2010

: One of the Blagojevich jurors explains what went omn during deliberations and why the panel was able to convict on only one of the 24 counts.
August 20 2010

: Rod Blagojevich on the "Today" show, his first post-trial one-on-one interview. He rules out a plea bargain.
August 22, 2010

: Rod Blagojevich on "Fox News Sunday", confirming that he hasn't ruled out another run for office (!?). A day earlier he was posing for pictures and signing autographs at a convention of comic book enthusiasts.
August 23, 2010

: Rod Blagojevich on "The Daily Show". If you watch this clip and the two preceding you should have a pretty good idea why his lawyers kept him off the stand.
August 26, 2010

: Rod Blagojevich reacts to the dropping of charges against his brother, Robert.
October 31, 2010

: Rod Blagojevich appears in a commericial for pistachios (even though it seems likely that nutraloaf rather than nuts will be a part of his future).
March 7, 2011

: A Daily Show correspondent stumbles upon Blago as he searches for fleeing Democratic Wisconsin state senators in norhern Illinois.
March 16 2011

: Rod Blagojevich and wife Patti fill in for vacationing Don Wade and Roma on WLS-AM.
April 13, 2011

: Rod Blagojevich gives a three-mimute statement to reporters a week before the beginning of jury selection for his second trial.
June 27 2011

: Rod Blagojevich leaves his house to head to the Federal Building where the verdict in his second trial will be read..
June 27 2011

: Rod Blagojevich reacts to the overwhelmingly guilty verdict in his second trial
June 27 2011:

U.S. Attorney Patrick Fitzgerald comments on the guilty verdict in the second trial of Rod Blagojevich.
December 7 2011:

Rod Blagojevich reacts to the 14 year sentence imposed on him by Judge James Zagel
December 7 2011:

U.S. Attorney Patrick Fitzgerald reacts to the Blagojevich sentence.
February 28 2011:

Patti Blagojevich tearfully proclaims her husband's innocence on the Rosie O'Donnell show..
March 15 2012:

A satirical musical and video commentary on Blago's last hours a free man. The audio portion of this clip was broadcast on WORT, Madison Wisconsin.
More to follow, probably
Comments or suggestions?
click here
to send them to Rich Samuels
Created by Rich Samuels (e-mail to rich@richsamuels.com)