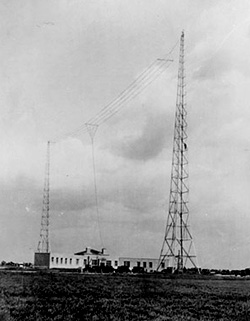 Left: WMAQ's new Elmhurst transmitter plant and the twin towers of its center-fed, horizontally polarized antenna.

Ground was broken on the new facility in February of 1928 where a new 5000 watt transmitter was installed. Construction and testing were completed in late May (this was quite a rush job).

A construction boom in Chicago's loop (which included many tall buildings that looked down upon the La Salle Hotel antenna) prompted the move to the suburbs. (By the beginning of 1928, WMAQ's signal penetrated only half of metropolitan Chicago).