The 1941 WLS Family Album:

Rita and Charlie

Photographed by Fons Ianelli
Curator's note: By the time I started listening to the Sunday morning funny-paper show, Uncle Jack Brinkley had replaced uncle Charlie and the Chicago Times had become the Sun Times.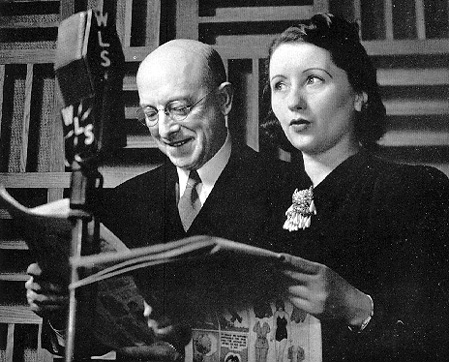 Favorites with the youngsters of the WLS audience are Uncle Charlie and Aunt Rita, who read the Chicago Times' funnies for the kids every Sunday morning. Among recent guests they have had on their program have been Stan Laurel and Oliver Hardy of the movies and Abbott and Costello of radio fame. Uncle Charlie is Charles Eggleston and Aunt Rita is Rita Ascot. Both are heard on many WLS and network dramatic programs.
Return to the 1941 WLS Family Album Index page
Comments or suggestions? click here to send them to Rich Samuels
Created by Rich Samuels (e-mail to rich@richsamuels.com)