The 1941 WLS Family Album:

News Department:

Julian Bentley and Ervin Lewis

photographed by Fons Ianelli
Curator's note: As a broadcast journalist, these are my favorite Ianelli WLS photos. Great juxtaposition of man and microphone and wire machine. I can still recall Bentley's authoritative delivery. Wish I could find some surviving audio.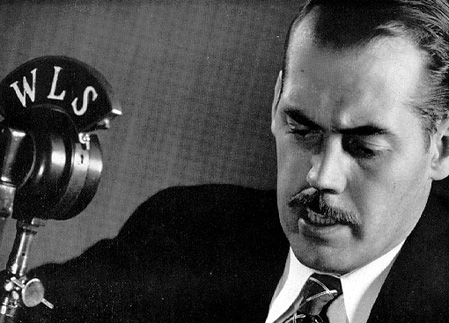 What with the presidential election and the war, news has been of greater interest to WLS listeners this year than ever before. They showed their interest when Julian Bentley edited a series of war maps and offered them for $.10. Thirty thousand listeners wrote in for the War Maps.

Bentley, who already reads and speaks several languages including French and Italian, has now started studying Portugese.
News from all over the world comes into the WLS news room via two fast teletypwriters which Associate News Editor Ervin Lewis was looking over when he looked up for this picture.

Lewis was a classmate of Bentley at Knox College in Galesburg, but finished his education at the University of Oklahoma School of Journalism.
Return to the 1941 WLS Family Album Index page
Comments or suggestions? click here to send them to Rich Samuels
Created by Rich Samuels (e-mail to rich@richsamuels.com)