The 1941 WLS Family Album:

WLS Studio Engineers

Photographed by Fons Ianelli
Curator's note: Fortunately, WLS re-outfitted its studios at 1230 W. Washington in the late 1930's. During the years of World War II, new gear would have been difficult, if not impossible, to acquire. You can see earlier WLS studio equipment in the 1932 WLS Family Album and the latest equipment in the 1954 WLS Family Album.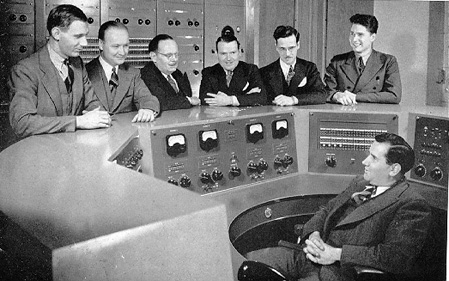 The studio engineers line up in the new WLS Master Control Room. Left to right are Walter Varnum, Maurice Donnelley, Burr Whyland, Jim Daugherty, Herb Wyers and Bill Taylor. Seated in Charles Nehlsen.
Return to the 1941 WLS Family Album Index page
Comments or suggestions? click here to send them to Rich Samuels
Created by Rich Samuels (e-mail to rich@richsamuels.com)