The 1934 WLS Family Album:

"Prairie Home"
Curator's note: Long before Garrison Keillor created "Prairie Home Companion", WLS writer Bill Meredith penned "Prairie Home". Notable in the cast, apart from the durable Joe Kelly, is Cliff Soubier, one of Chicago's most versatile character actors. Years later he appeared as "Cliffy the Clown" on ABC Television's "Super Circus", featuring Mary Hartline.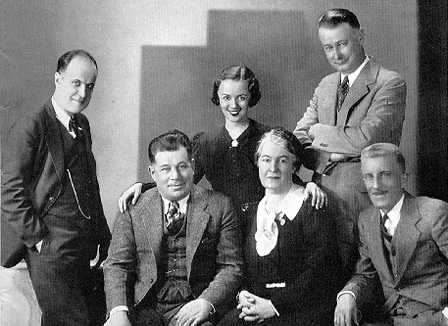 Meet the "Prairie Home" folks. You've been hearing this neighborly visit with the John Wilson family every week for several months. In these sketches, the everyday happenings in a corn belt farm community are dramatized. The writer of "Prairie Home" is Bill Meredith. He is a new mwmber of our program writing staff, rather quiet, but always on the job in helping build better WLS programs.

From left to right, the "Prairie Home" folks are: Ralph Ames (Joe Kelly); John Wilson (Cliff Soubier); Katherine (Dolores Gillen); Mrs. Julia Wilson (Marie Nelson); Rev. Mapleston (Wm. Vickland), who has also directed the plays; Editor Dan Richards (Check Stafford). The only missing member is Harry Rogers (Frank Dane). Heinie, the hired man; little Eddie Wilson, and Aunt Mattie are portrayed by Cliff, Dolores and Marie, respectively.
Return to the 1934 WLS Family Album Index page
Comments or suggestions? click here to send them to Rich Samuels
Created by Rich Samuels (e-mail to rich@richsamuels.com)