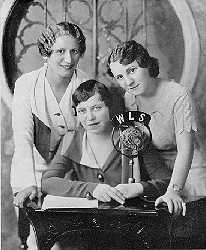 Every day these three cheerful girls bring you Home Hints, Style Service and a discussion of cooking.

From left to right, they are: Sue Roberts, who talks of all sorts of home problems; Anne Williams, who tells about hats, coats, dresses and all kinds of style matters, and Leone Heuer, whose specialty is good things to eat.

They are the representatives on the air of Sears Roebuck and Company, and they have a great circle of friends among the women listeners of WLS. Now you'll know them better when their cheerful voices come over the air.