Streaming video:

Luciano Pavarotti on WMAQ-TV

(September, 1977)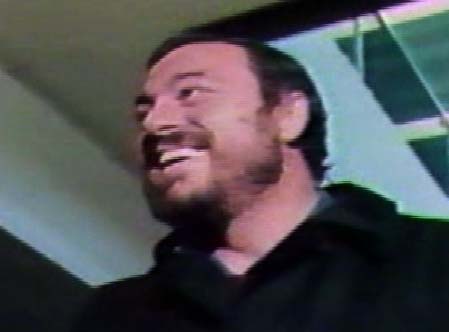 Above: Luciano Pavarotti arrives at Chicago's O'Hare airport in September, 1977.
Curator's note: This video documents the September, 1977 encounter of the Curator and WMAQ-TV producer Marjorie Fox with Luciano Pavarotti who had come to Chicago for the Lyric Opera's season opener, L'elisir d'amore. This piece is notable (among other reasons) because it portrays Pavarotti as a devoted family man who has finally brought his weight under control.

This piece was originally shot on film (WMAQ-TV had still not fully adopted videotape technology in 1977). Opera-lover Amatore Mazzacano was behind the camera. Sound is by Jake Collins. Lighting is by Dominic Contursi.

Anchor Don Craig introduces reporter Rich Samuels. Does anybody know what became of him.

Thanks to Marjorie Fox (now of the University of Cincinnati) for providing this video.
Scenes from the video:


| | |
| --- | --- |
| Right: Luciano Pavarotti with wife #1 Adua and their three daughters, Lorenza, Cristina and Giuliana. | |
| | |
| --- | --- |
| | Left: Luciano Pavarotti cooks lunch in the kitchen of his Chicago apartment. |
| | |
| --- | --- |
| Right: A Pavarotti culinary creation, allegedly containing little or no fat. | |
Comments or suggestions? click here to send them to Rich Samuels
Created by Rich Samuels (e-mail to rich@richsamuels.com)