Don McNeill's "Breakfast Club":

Streaming video of a mini-documentary

Curator's note: This piece (researched, written and presented by correspondent Rich Samuels) first appeared on the WTTW's "Chicago Tonight" broadcast of February 18th, 2004. It includes some remarkable real-time scenes of a fairly elaborate live radio variety show. You'll see some skilled, hard-working broadcasters who are clearly having fun on the job.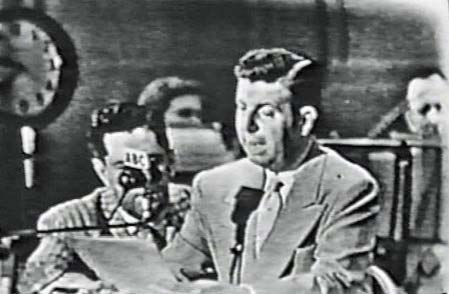 Above: "Breakfast Club" host Don McNeill in May, 1948 during the course of the first "Breakfast Club" radio-television simulcast. Long-time "Breakfast Club" comedian Sam Cowling is on the left.
About this video: This mini-documentary (it runs roughly 17 minutes) features clips from "Breakfast Club" simulcasts which feature not only Don McNeill, but other regular members of the show's cast. Included are Fran Allison in the role of "Aunt Fanny", comedian Sam Cowling and announcers Don Dowd and Bob Murphy.

You will also see portions of Don McNeill's 1958 appearance on Edward R. Murrow's "Person to Person" show, as well as snippets from his 1960 appearance on Ralph Edwards' "This is Your Life" broadcasr.

Historical perspective is provided Don's three sons: Don, Jr., Tom and Bob; as well as by Terry Petersen, daughter of "Breakfast Club" producer Cliff Petersen, Pat Murphy, daughter of announcer Bob Murphy, vocalist Mary Ann Luckett Riehl and ABC staff guitarist Pat Ferreri.

Roy Alan was the WTTW cameraman. Bob Furem was the videotape editor.

Many of the archival materials came from the Don McNeill Collection at Marquette University in Milwaukee, WI.

[You will need RealPlayer to view this video].
Click here to view the Don McNeill "Breakfast Club" mini-documentary
Comments or suggestions? click here to send them to Rich Samuels
Created by Rich Samuels (e-mail to rich@richsamuels.com)