Highlights from

The 1942 Breakfast Club Family Album

Curator's note: The Family Albums Don McNeill produced for a number of years were one of the factors in the success of the "Breakfast Club". They facilitated the bonding between the show and its audience. And they reinforced the element of "family" that the show projected. The 1942 yearbook, distributed during some of the darkest days of World War II, is especially interesting to read in these times of a much different war (or perhaps wars). Copious thanks to Steve Bluestein who provided me this document. (And don't forget to listen to the Breakfast Club broadcast of December 8th, 1941).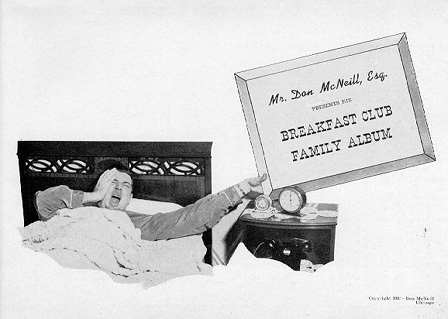 Above: The title photograph (featuring program host Don McNeill) for the 1942 "Breakfast Club Family Album"
You can access the following pages including the original text and photographs:
| | |
| --- | --- |
| | "Your Toastmaster". A brief biographical sketch of "Breakfast Club" host Don McNeill (from Galena to Sheboygan to Marquette University---eventually to NBC's Merchandise Mart studios in Chicago). |
| | |
| --- | --- |
| | Breakfast Club alumni. They came and they went. And some of them came back. The curator can pretty much guarantee that you'll remember some of them. |
| | |
| --- | --- |
| | Ten Years of Breakfast Club History (1933-1942). It culminated with Don receiving and honorary doctorate from Saint Bonaventure College in 1942 (how many honorary degrees has Howard Stern received?). And the Breakfast Club still had another fifteen years to go! |
| | |
| --- | --- |
| | The McNeill family. Don, his wife Kay and their three sons Tom, Don and Bob, photographed in the living room of their newly-built home in Winnetka in suburban Chicago. |
| | |
| --- | --- |
| | Vocal groups---including the Four Vagabonds, the Escorts and Betty, the Romeos and the Cadets. |

Don't forget to check out the 1953 "Breakfast Club" year book
Comments or suggestions? click here to send them to Rich Samuels
Created by Rich Samuels (e-mail to rich@richsamuels.com)