Live from Studio D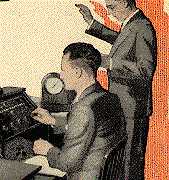 Listen to the "Empire Builders" Broadcast of December 22nd, 1930 and January 5th, 1931
Curator's note: These two broadcasts survive in the form of air-checks of the signal of Chicago's KYW, owned by Westinghouse and operated by the Chicago Herald and Examiner, a Hearst newspaper (NBC had yet to purchase its own Chicago stations). The sound quality is less than perfect. The broadcasts were recorded on aluminum disks at 78 rpm. I've attempted to clean up the audio with maximum intelligibility as my goal. Though fidelity is lacking, the talents of those who produced this show are clearly evident. They are among the earliest surviving examples of network radio dramatic productions. Enjoy!
The "Empire Builders": December 22nd, 1930
A young crippled orphan girl melts the heart of a self-absorbed bachelor just in time for a happy ending on Christmas day. Featured in the cast are Harvey Hayes, Lucille Husting, Bernadine Flynn, Betty White and Bob White. Ted Peason is the announcer.Weak on plot, but great sound effects, musical bridges and audio mixing.
The "Empire Builders": January 5th, 1931
The Great Depression is over! That's the message of this "Empire Builders" episode. True, history proves that the greatest economic crisis of the 20th century was only gathering steam on January 5th, 1931 when this broadcast aired on NBC's Blue Network. But it's a remarkable show nonetheless, with a fascinating mixture of populism, feminism, elaborate live sound effects, musical interludes, a great script and competent acting.
Postscript...


1931 was a bad year for the Great Northern Railway. Passenger traffic declined to a little over a million, compared to 8.5 million in 1920. Roughly a month after this January 5th broadcast, the Great Northern discontinued its "Oriental Limited", one of its crack passenger trains. In June it pulled the plug on "Empire Builders".

But good times were coming for NBC's Merchandise Mart studios. Click here if you have doubts.
Return to the "Empire Builders" page
Comments or suggestions? click here to send them to Rich Samuels
Created by Rich Samuels (e-mail to rich@richsamuels.com)